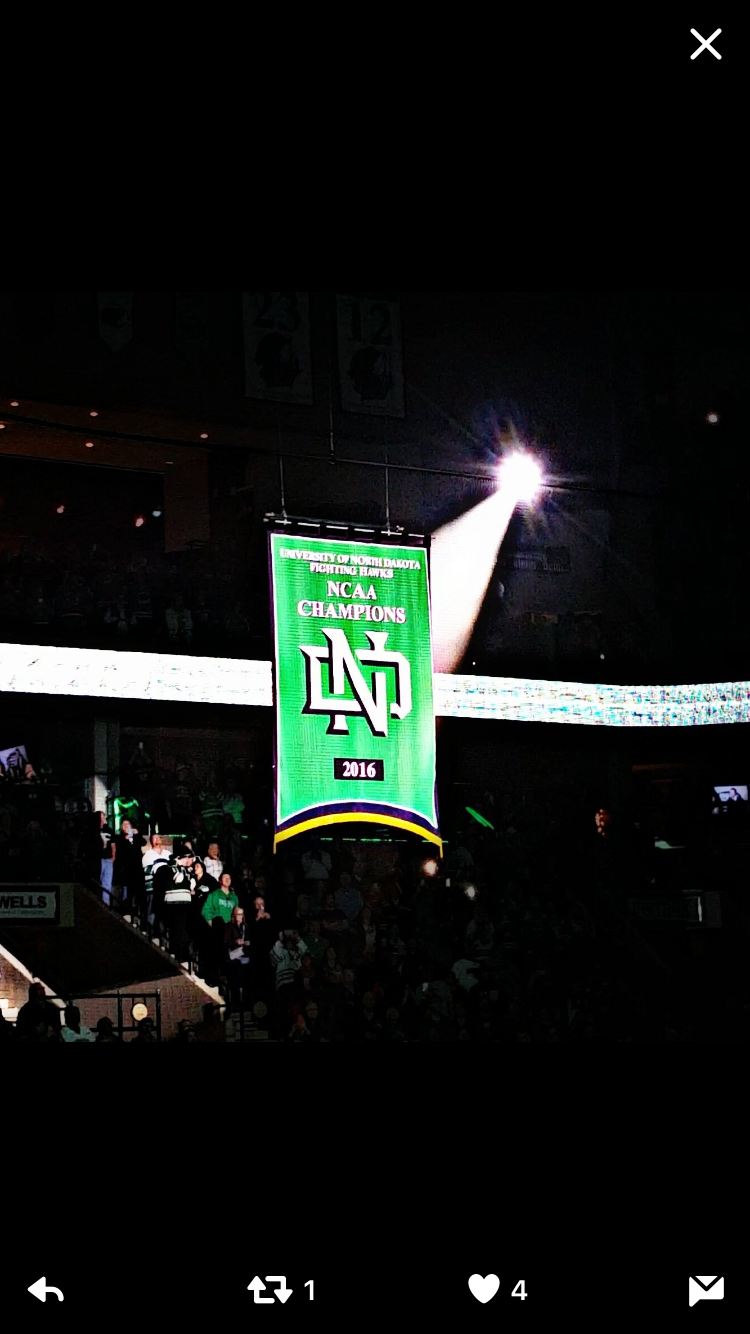 Content Count

3,454

Joined

Last visited

Days Won

10
Jake's brother is probably thinking " I wish I could go to UND too."

This 2 second video by an uno guy does not show what provoked Pinto to do this. This guy is also still complaining it was only a one game suspension when I cannot recall for the life of me any multi game suspensions in the last decade beyond Aaron Marvin's back in 2009-10.

The Senators GM came to UND this week to try to get him to leave by the sounds of things over on Twitter.

They'd need to find another winger to play with them because they've tried multiple guys there and none of them have done much there.

It was in Montreal. Shane was still in Austria a couple hours ago, according to Instagram, so any thoughts on him playing tonight is delusional. Might not even get to America until tomorrow depending on layovers and what kind of flight he has.

They do, actually. I don't think they have qualified often in the past though.

Here's how I see things: Getting Michaud lessened the blow of losing Jones. Because like you said, this team the previous 2 years would have been pretty brutal (even worse than they were) without Nick around.

It will be on hockeytv. I'm not sure if they have per game pricing. $30/month. I tried it last spring for a month so I could watch some of the junior hockey playoffs.

UND put in a bid, (not sure if it was Sioux Falls or Fargo), but only got one of the year's they bid for. I'm not sure if it was for Midwest or West or why that should matter. (Just rearrange them. ) Next year Midwest will be in Fargo and West will be in Colorado. So at least there will be 2 out "West" next year.

Technically, UMass, Clarkson AND BC could all be placed there since at the moment they are different seeds. But your point still stands, we've seen this play out before.

Well yeah, there's more of us. As of now, Denver still is in no 1 seed territory, so that'll be something to watch because this conversation is irrelevant if they hold firm there.

It won't matter in Loveland if Denver is there. And that is exactly what the committee will think. (Not that it's necessarily true) But if people want to make assumptions, by all means.

I didn't make the rules that decided Allentown, PA is in the "Midwest." I'm just saying this is the normal process. If the Committee wants to set a precedent that creates an exception to this, well, that's up to them.

Not necessarily. If Mankato ends up the number one overall seed, they'll get placed first at the regional closest to home, which is Colorado. I have seen very few (if any) scenarios in the last 10 plus seasons where the overall number one was placed at a regional that wasn't closest to home. People can argue on attendance all they want, that didn't give us the St Paul regional in 2016 over SCSU when they were seeded higher either. We would've brought more fans there but NCAA didn't care.

I'm more talking about how the fans here react to him than the players. The fans here HATE him. I just had a guy sitting behind me trash him all game and say he has no business playing college hockey if he can't take a hit.