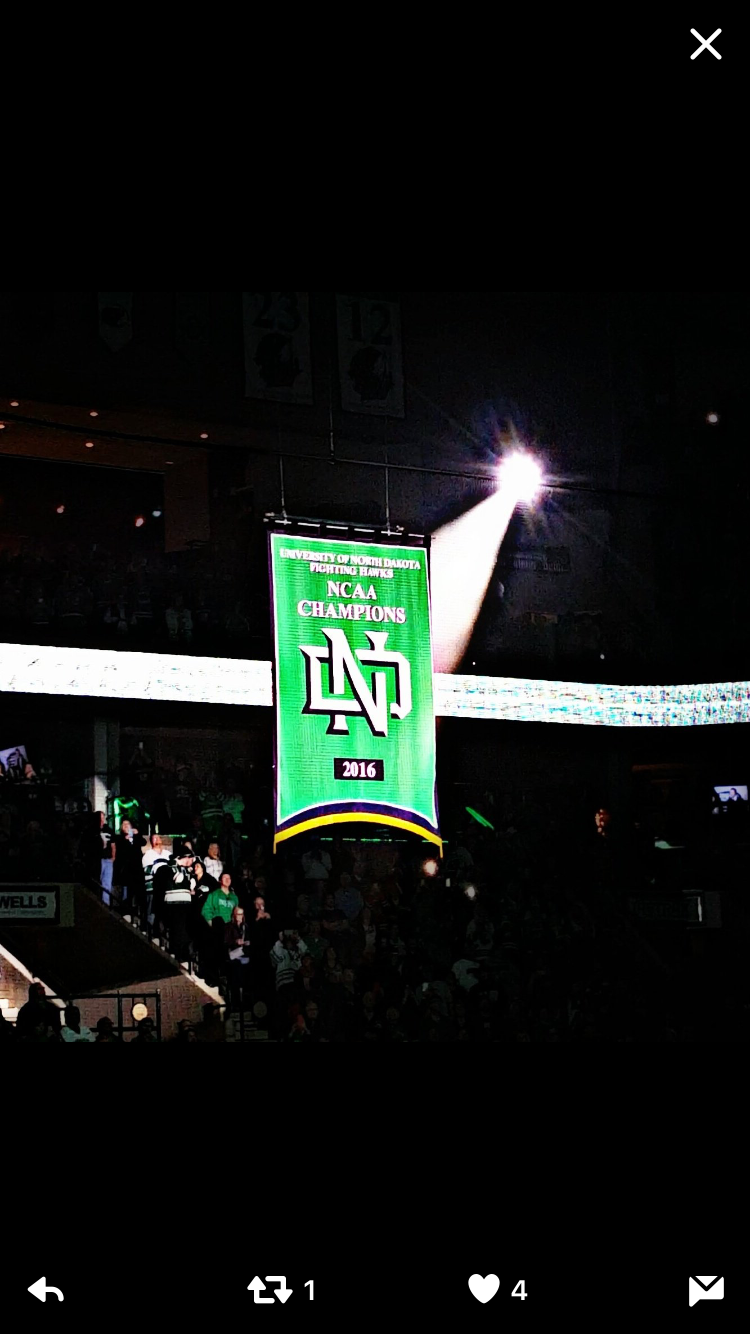 Content count

2,651

Joined

Last visited

Days Won

6
Everything posted by siouxforce19
siouxforce19 replied to Frozen4sioux's topic in Men's Hockey

I assumed that's why. This initial vote is basically every player nominated by the schools. Schools can nominate 3 players. That said this fan vote has virtually no bearing on who will be Hobey Finalists.

It wasn't solely the tie that dropped them. It was that in combination with other results.

I'm not sure but I got 4 weeks from Gardner himself on the intermission interview with Ole.

I'm hoping there's a bye week in there lol.

Once the line combo goes dry for a few games, they switch it. That's what happened last year with Pogo, JJ and Hoff. This year they switch it when someone gets injured. With Gardner saying he's out about 4 weeks, we'll be switching lines again!

I agree. I wasn't a big Guch fan at the start, but I think he's coming around. Also agree on Mismash disappearing. All of this is why Guch is on the 2nd line and Mismash was on the 4th. I don't think the consistency is there.

Spot on. It's obvious they are around the team more than the TV people. The Midco people think Mismash played for Edina High School so...

Coach's Decision. Easy answer.

Point still remains. UND has had far less talented teams do just fine. This is an overreaction to a loss to a team we all expected UND would beat.

Denver's best player last year was an offensive minded defenseman who won the Hobey.

Did you not see the Frank Serratore video?

The ones who reffed Denver-AF last weekend.

So his other two didn't count?

siouxforce19 replied to Frozen4sioux's topic in Men's Hockey

I love how the DU fans on Facebook complained about UND fans complaining about uneven officiating at Magness when it's not just us that have experienced the home cooking...

I got in an argument with someone saying UND isn't a hockey school because we don't have women's hockey. Apparently... BROWN is a hockey school. But to your point... Im not sure what these non-UND hockey fans expect us, or our men's hockey team to do about it. Complain for the foreseeable future?

I suppose I should know who that is, but... All I am saying is it's pretty rare these days.

Me neither. Because... How often does a player leave to go back to juniors... and then go back to the original school?

siouxforce19 replied to AlphaMikeFoxtrot's topic in Community

As a female, I completely agree. I don't doubt there are issues at ESPN, but the Buccigross complaint is a joke.

I think some people are missing the point of this conversation. It was never about what's happening right now. Part of the discussion was about what defines a "powerhouse" program. This wasn't ever meant to be a knock on SCSU - they have a good program down there, and their fans have a lot to be excited about. They don't have the tradition and history of some other programs, but have gotta start somewhere...

Geez. All I did was call SCSU an up-and-coming program and the claws came out... *shrugs*

Exactly. Maybe others have different views of what defines a "college hockey power" but I don't put SCSU in the same category as others I'd call a powerhouse program.

I would categorize SCSU as more of an "up-and-comer" than a "power." I think even their fans know that. And when going head-to-head for a recruit in our backyard, the cards are stacked against them.

Exactly. When he was here we really didn't have much offensive talent. Pretty sure he played on a line with Pattyn of all people. If only he would've been here at the same time as Nick Schmaltz...

He committed in April. Backed out last month because he wanted to be close to home. Then UND got in the picture along with a bunch of other schools. Probably committed too soon before he realized there were more options for him. See it a lot these days.