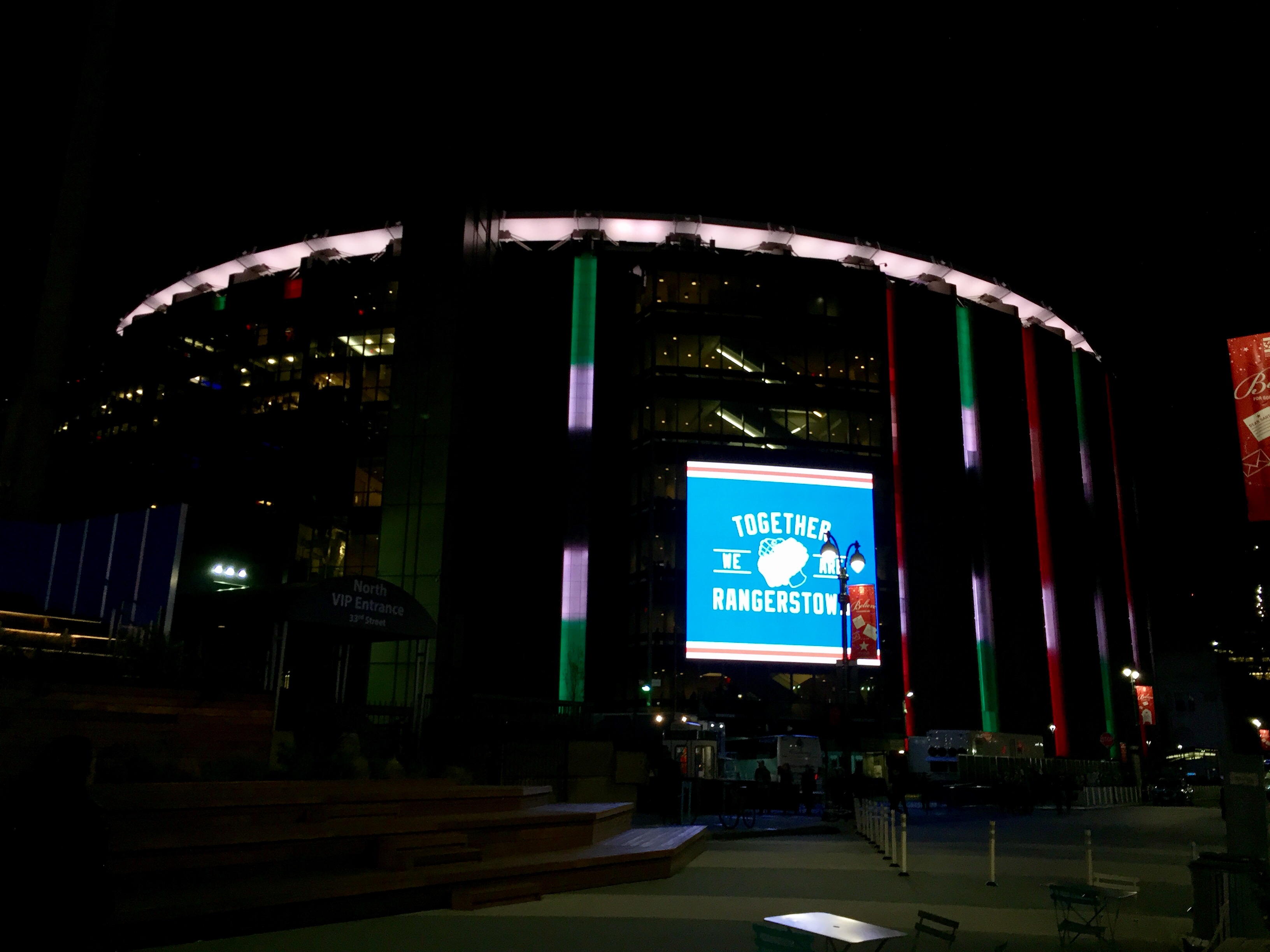 Content count

104

Joined

Last visited
Video surveillance outside of the United Center showed a male Duluth fan violently fall as if he had been shot. However after a 30 second rest on a nearby park bench he was able to return to his previous activity. A suspect was captured and charged with a minor crime but has now been released after his time served. The video evidence that would have resulted in the suspect's acquittal was ruled inadmissible in court.

13

They announced the largest Frozen Four crowd at an NHL venue (see Ford Field note above). Disclosure- we sat upper deck and on an end so I'm not sure if that had an impact but Thursday was a bit lacking for atmostophere. Notre Dame seemed have the most fans but not much to cheer for during their game. Saturday was better and lots of Duluth fans made the trip for the championship game. They were the more vocal group throughout the game but more Pios fans were there than I expected. It was one of the best non-UND championships I've seen live. The UC had an atrium attached and served beer in there which should be a requirement for all potentially cold weather frozen fours going forward.

My guess is a verbal commitment has been reached on both sides but it won't be signed/publically announced for a few weeks. Possibly they wait until finals are over. The optics of cancelling three programs to give a coach a raise will provide the primary fuel source for the twitter-storm going forward.

If we rally around bringing something back to The Ralph I have a far cheaper and more gratifying option: #NotMyUNDWithoutTrunkMonkey

But UConn's streak of dominance was snapped at 111 games immediately after UND's streak of dominance was ended by their administration. Coincidence???

I get what you are saying but why is this solely on Brad's shoulders? He has an editor and Forum Communication should want to get this right. To be fair, Miller wrote the "it could be good for other sports piece". And ultimately they are using what is fed to them via press releases and quotes from UND's administration. If you want to be mad at the message UND is the source and did a terrible job of laying out the black and white position based on the financials and cutting the smallest amount of athletes. This also has to be said. For all of you embarrassed, upset, mad at UND and/or Brad, remember the real source of the issue is the North Dakota budget. Instead of directing all of your anger at the school realize every administrator from UND was put in a lose-lose position based on events almost entirely out of their hands. Did they handle it perfectly?...no. Was there a perfect way to handle it?...no. Being upset is justified just always make sure to point it in the direction best positioned to deal with it...in this case your legislator if you live in ND. PS- Please do not make this a political thread. I'm simply pointing out the problem was bigger than UND and therefore blame should be bigger than UND.

With Cam coming back Tomek (and Philly who drafted him high for a goalie) are in an interesting position. I would assume he gets a little more playing time next year if he stays but he wouldn't be the full time goalie until his senior year assuming he beats out the youngsters. But if he jumps to another NCAA team he has to sit out a year. With very limited NCAA experience I don't see him in the AHL at this point so signing becomes less appealing. I'm intrigued how this will play out.

Hak's teams always had "unfinished business" to attend to the following year however. Please don't turn this into a blast Hak thread but a natty does trigger a mass exodus of talent, it puts a target on your back the next year, and there seems to be a bit of a hangover effect.

Here is the summary of key talking points to anyone fighting this; 1). Financials- the "buck" stops here. UND needed to cut $1.3 million and women's hockey loses more than $2 million a year if you apply their share of REA expenses. With having to maintain 16 teams I'm not sure cutting any other combination of programs would have made the numbers work especially if they want to invest more in some of the remaining programs. Financials are as black and white as it gets but IF you aren't a numbers person here are a few more; 2) Support- Attendance simply is not there despite being a fixture in the national polls. The lack of support for good teams points to a limited market that will consume this product at the present time. Even if attendance is increased dramatically it won't raise much revenue because kids get in free, champions club members get in free, and many weekends tickets are $5 or less for everyone else. 3) Chance at a natty- As I said above they are a bit of a long shot between perrieniel powers out west, how scheduling/pairwise works, etc. Please note this item is in the #3 spot behind financials and support Sure other UND programs are long shots or no shots but they arent losing $2M a year either and have better attendance. Then there are counter arguments mainly olympians. How often when the twins are on national tv like on the Today Show do they mention UND once? It just doesn't come up in interviews. And sure they mention where they play during the tournament which attracts more future olympians to UND But even with all of these olympians coming through the program the financials still do not work and people are still not going to the games. U of M has had tremendous success in women's hockey and their team loses just as much money as ours. We could justify keeping women's hockey as long as we had the money to support it but those days have come and gone unfortanetly. Full disclosure the fact that any programs were cut is sad and I feel aweful for those impacted. But if people step off their social media soapboxes and research this move not only does it make the most sense it might have been the only option to make the numbers work. End of story. And we are still Title IX compliant and hiring the consultant is one of the things UND did right IMHO

I've seen a few posts pointing to a good chance they could have won a natty in the near future. I would argue evaluating their chances of winning a natty could have led to the opposite conclusion. With perineal powers Minnesota and Wisconsin in the west and how the scheduling/pairwise works (or doesn't) for women's hockey it was a bit of a long shot. Several times UND was arguably the 3rd or 4th best team in the country and didn't even make the tourney. Unless they could find the magic bullet to all of a sudden beat those schools consistently going forward, making the tourney was far from a given. And women's hockey is not like the men's side in which any team that makes the tourney has a chance. It is 2 or 3 schools that have a legitimate shot year in and year out with perhaps one senior heavy team sprinkled in.

You're right. I read a story when Brock signed that talked about them being only a few months apart in age. But I just doubled checked and they are over a year a part in age.

Tyson Jost's Family Advisor - 1 UND's PR Team - 0 Bury the lead of being a one and done by signing on the day other massive news breaks which will eat up local media. PR 101 right there. Congrats to Tyson. I suspect he was originally planning to be here two years but since we were loaded at forward during our run to #8 he stayed in Penticton an extra year. In that regard we are lucky he honored his commitment. Better to have loved and lost than to never have loved at all.

The circus started around the time the name was retired. Sadly at this point we are simply watching more and more clowns climb out of the car.

2

There is also the hypocrisy to deal with late in games. Refs historically put their whistles away midway through the 3rd period. Some of the infractions that are typically let go involve obstruction\interference in front of the net which directly take away quality scoring opportunities. This is all done under the mantra "let the players decide the game on the ice". I'm fine with this up until we stop the game for 7 minutes and review a play frame by frame looking for any evidence to overturn it which is the opposite of "let the players decide the game on the ice". So either we should put the whistles away and shelf the replays with it or keep the replays but have the refs continue to call a consistent game. Best option...no automatic replays. Each team gets 1 video challenge and if they win it they get a second challenge. Barring technical difficulties all video replays must be conducted within a 3 minute timeframe. The call stands unless there is indisputable evidence (which should be made public post game) to overturn it or the 3 minutes time limit is met.

Know when to say when...friends don't let friends rehash the same argument for multiple pages. What rules would you like to see the NCHC look at modifying? I threw a few ideas out there related to diving, faceoffs, matching minors, etc. Other ideas???