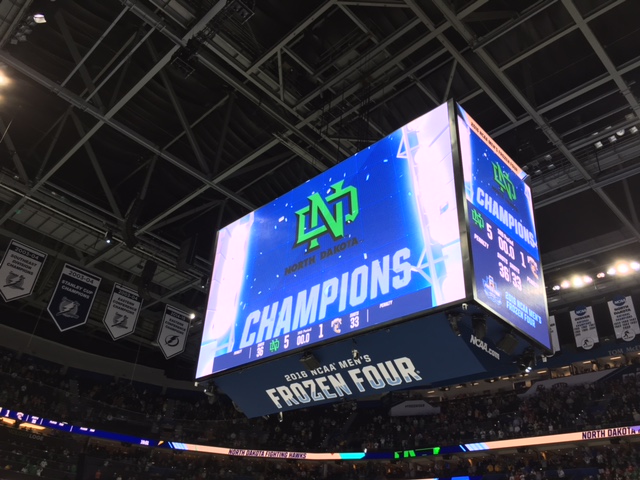 Content count

282

Joined

Last visited
http://ftw.usatoday.com/2017/11/wayne-gretzky-jonathan-toews-connor-mcdavid-canadian-tire-jumpstart-toasters The Toew-ster in some pretty good company. Order now for Christmas arrival.

http://www.tsn.ca/boeser-has-three-goals-canucks-beat-penguins-1.906102

Nice article on Tucker. http://www.tsn.ca/poolman-provides-option-for-jets-1.896088

Refs are back to letting SLU interfere all over the ice.

SLU looked offside on their goal.

More Stecher: http://vancouversun.com/sports/hockey/nhl/vancouver-canucks/kuzma-stecher-embraces-challenges-of-playing-at-home/wcm/24d85a20-dcd9-404f-b7dc-2444dc7e5c86

My wife and I are excited to go see UND play opening weekend in Anchorage. Really liked the crisp passing last night at the Ralph.

Matt Greene becomes a scout for the Kings. A great UND hockey representative. https://www.nhl.com/kings/video/nhl-tonight-matt-greene/t-277437410/c-52478103

Way to go Carter:!!! I enjoyed watching you and your team win The CUP. Loved the photo of your son in The CUP. Bring it to North Dakota if there is a flight between Sexsmith and anywhere here.

Drake with a fight in tonight's game against Anaheim. Looked like he worked the guy a bit.

Another good Stecher story: http://vancouversun.com/sports/hockey/nhl/vancouver-canucks/jason-botchford-stechers-stature-rises-as-blue-liner-brings-tenacity-to-canucks

Wow, that hurt. You guys accomplished a lot when you are such a young team. Bye to Gage and Matt. Thanks for playing UND hockey. I hope all of you stay and give it another shot next year. You are a fun team to watch and cheer for. Thanks again for playing.

Nice article on Nick Schmaltz and Chicago: http://www.chicagotribune.com/sports/hockey/blackhawks/ct-nick-schmaltz-ryan-hartman-thriving-spt-0309-20170308-story.html

Stecher has the mumps. Defeat it Troy.